Desempenho de técnicas e combinações de previsões: Um estudo com os percentuais relacionados com o sistema único de saúde Brasileiro
Palabras clave:
Combinação de previsões, Sistema Único de Saúde Brasileiro, previsão, Forecast Combination, Brazilian Unified Health System, forecasting.
Resumen
Realizar previsões é uma atividade que permite a todos os setores industriais ou de serviços dimensionar suas necessidades para atender bem aos clientes. Para tanto, osgestores estão sempre em busca da previsão maisacurada. Sendo assim, este artigo apresenta por meio
do estudo da série percentual da quantidade de procedimentos ambulatoriais não aprovados para pagamento pelo Sistema Único de Saúde (SUS) em relação ao total apresenta doa este sistema,uma investigação para comparar o desempenho de previsões desta demanda. Os métodos utilizados foram: modelo de suavização exponencial e redes neurais artificiais, métodos de combinação de previsões pela média e por regressão. Foi possível observar que o método de combinação por regressão apresenta uma pequena superioridade em relação às demais técnicas.
Perform forecasts is an activity that allows the industrial sector or services scale their needs to better attend the customers. For that, forecasters are always searching for more accurate predictions. Thus this paper presents a study through the data series of the percentage of the amount of outpatient procedures payment not approved by the Unified Health System (SUS) in relation to the total reported to that system, a research to compare the forecast techniques performance of this demand. The methods used in this study were: model of exponential smoothing and artificial neural networks, average forecast combination and regression
forecast combination. It was possible to observe that the regression combination method showed mild superiority over the other techniques.
Descargas
Los datos de descargas todavía no están disponibles.
Citas
ABRAHAM, Bovas, and LEDOLTER, Johannes.Statistical methods for forecasting. New York: John Wiley & Sons, 2005.
BATES, John M., and GRANGER, Clive WJ. The combination of forecasts.Operational Research Quarterly, 1969, p. 451-468.
CHAN, Chi Kin., KINGSMAN, Brian G., and WONG, H. Determining when to update the weights in combined forecasts for product demand: an application of the CUSUM technique.European Journal of Operational Research, 2004, vol. 153, no 3, p. 757-768.
COSTANTINI, Mauro., and PAPPALARDO, Carmine. A hierarchical procedure for the combination of forecasts.International journal of forecasting, 2010, vol. 26, no 4, p. 725-743.
DATASUS. Produção Ambulatorial do SUS - Rio Grande do Sul. 2012. [Disponível em:] http://tabnet.datasus.gov.br/cgi/tabcgi.exe?sia/cnv/qars.def
DE ARAÚJO SOUZA, Georgia Costa., and COSTA, Iris do Céu Clara. O SUS nos seus 20 anos: reflexões num contexto de mudanças.Saúde e Sociedade, 2010, vol. 19, no 3, p. 509-517.
GRANGER, Clive W.J., and RAMANATHAN, Ramu. Improved methods of combining forecasts.Journal of Forecasting, 1984, vol. 3, no 2, p. 197-204. HAIR JUNIOR, Joseph F., et al. Análise multivariada de dados. 5. ed.Porto Alegre: Bookman, 2005. 593 p.
HAYKIN, Simon.Redes neurais: princípios e prática. 2ed. Porto Alegre: Bookman,2001.
MAKRIDAKIS, Syros., WHEELWRIGHT, Steven C., and HYNDMAN, Rob J. Forecasting. Methods and Applications. 3.ed.New York: John Wiley & Sons, 1998.
MARTINS, Petronio G., and LAUGENI, Fernando P. Administração da Produção. 2. ed. São Paulo: Saraiva, 2006.
MARTINS, Vera Lúcia Milani., and WERNER, Liane. Forecast combination in industrial series: A comparison between individual forecasts and its combinations with and without correlated errors. Expert Systems with Applications, October 2012, vol. 39, no 13, p. 11479-11486.
MENEZES, Lilian M.,BUNN, Derek W.,and TAYLOR, James W.Review of guidelines for the use combined forecast. European Journal of Operational Research, 2000, vol. 120, no1, p. 190-204.
MONTGOMERY, Douglas C., PECK, Elizabeth A., and VINING G, Geoffrey.Introduction to linear regression analysis.New York: John Wiley & Sons, 2012.
MORETTIN, Pedro A.,TOLOI, Célia M. Previsão de SériesTemporais. Editado por Edgard Blucher. São Paulo, 2004.
OLIVEIRA, Sérgio Pacheco de.Modelo de previsão de demanda de médicos para internação pelo SUS: estudo de caso para o Estado do Rio de Janeiro. 2007. Tesis Doctoral. Universidade do Estado do Rio de Janeiro. Instituto de Medicina Social.
WEBBY, Richard., and O'CONNOR, Marcus.Judgment and Statistical Time Series Forecasting: a Review of the Literature. International Journal of Forecasting, 1996, vol.12, no1, p.91-118.
WERNER, Liane. Um modelo composto para realizar previsão de demanda através da integração da combinação de previsões e do ajuste baseado na opinião.Thesi (PhD in Production Engineering). Porto Alegre: UFRGS, 2005.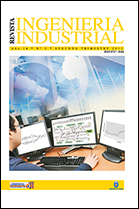 Descargas
Licencia

Revista Ingeniería Industrial by Revista Ingeniería Industrial is licensed under a Creative Commons Reconocimiento 4.0 Internacional License. Creado a partir de la obra en revistas.ubiobio.cl/index.php/RI/. Puede hallar permisos más allá de los concedidos con esta licencia en http://revistas.ubiobio.cl/index.php/RI/about/