Controle estatístico de um processo químico contínuo: um estudo de caso com o gráfico irm e duas variáveis de controle
Palabras clave:
Gráficos de Controle, Controle Estatístico de Processo, Capacidade de Processo, Processos correlacionados.
Resumen
O objetivo desse trabalho é realizar um estudo de caso em uma Indústria Química, localizada no Estado do Rio de Janeiro. De forma mais precisa, o estudo foi baseado na aplicação dos conceitos de Controle Estatístico de Processo a fim de avaliar e estabelecer melhorias na capacidade de produção. A utilização do gráfico de Média Individual e Amplitude Móvel é a ferramenta mais adequada para analisar a estabilidade do processo de nosso objeto de estudo. Este artigo limita-se a realizar análises estatísticas com os dados fornecidos pela empresa e propor melhoria em seu processo com objetivo de torná-lo mais estável e capaz. Os resultados obtidos revelam que o processo emite vários sinais estatísticos para que se tome uma ação corretiva que foram ignorados pela não utilização da ferramenta proposta. Também é revelado uma baixa capacidade do processo em atender às especificações, uma vez que a cada um milhão de lotes produzidos cerca de aproximadamente 130 mil itens não cumprirão com as especificações. Conclui-se que a empresa pesquisada poderia implantar o controle estatístico do processo com frutuosos benefícios.
The objective of this work is to make a case study in a chemical industry (IQ), locates in Rio de Janeiro. More precisely, the study was based on the application of the concepts of Statistical Process Control (SPC) in order to evaluate and establish improvements in the production capacity. The use of individual average chart and mobile amplitude is the tool, more appropriate for analyzing the stability of the process that our object of study. This article is limited to make statistical analysis with the data provided by the company and propose improvements in its process with a view to become it more stable. The results show that the process emits some statistical signals in order that we take an action corrective that have been ignored by not using the proposed tool. It is also revealed a low process capacity to meet specifications. It is concluded that the searched company could implant the statistical process control with great benefits.
Descargas
Los datos de descargas todavía no están disponibles.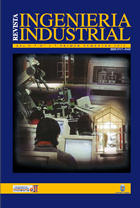 Descargas
Licencia

Revista Ingeniería Industrial by Revista Ingeniería Industrial is licensed under a Creative Commons Reconocimiento 4.0 Internacional License. Creado a partir de la obra en revistas.ubiobio.cl/index.php/RI/. Puede hallar permisos más allá de los concedidos con esta licencia en http://revistas.ubiobio.cl/index.php/RI/about/