Integrando técnicas de simulação com balanced scorecard na gestão de operações de serviços
Palabras clave:
Balanced Scorecard, System Dynamics, Service Operations, Simulation.
Resumen
A intangibilidade, simultaneidade e não-estocabilidade da produção de serviços dificultam a gestão eficiente dos mesmos. O objetivo deste artigo é apresentar um framework metodológico que contribua com a gestão eficiente dos serviços, baseado na simulação dinâmica. Para isto, o framework proposto se apoia na integração da sistemática de mensuração e avaliação do Balanced Scorecard (BSC) com as técnicas e métodos de simulação da Dinâmica de Sistemas. É apresentado um modelo de simulação dinâmico como exemplo de aplicação de um sistema de produção de serviços, utilizando, para a estrutura do modelo, as quatro perspectivas do BSC. Os resultados do modelo se dividem em dois tipos: i) a comprovação da efetividade de utilizar modelos dinâmicos de simulação com base no BSC para incrementar a eficiência da gestão de serviços, ii) as implicações para os gestores de serviços, com base no exemplo apresentado. Conclui-se que modelos de simulação, com base na visualização de cenários, contribuem na gestão de serviços e que técnicas de Dinâmica de Sistemas ajudam a estruturar a utilização do BSC e facilitam na compreensão dos comportamentos do sistema de produção de serviços.
Intangibility, simultaneity and non-stockability in service operations difficult its efficient management. The purpose of this paper is to introduce a methodological framework that contributes with the efficiency of service management, based on dynamic simulation. In order to achieve this, the proposed framework is supported by the integration of: the measurement and evaluative features of the Balanced Scorecard (BSC), and in the simulation techniques of System Dynamics. A dynamic model is presented, exemplifying a service production system, structured on the four perspectives of the BSC. The results are divided into two: i) the validation of the effectiveness of dynamic models based on BSC in service management, ii) the managerial implications based on the example case. It concludes that: simulation models, based on scenario visualizing techniques, aids in service management; that System Dynamics aids structuring BSC use and in the understanding of service system behavior.
Descargas
Los datos de descargas todavía no están disponibles.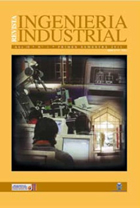 Descargas
Licencia

Revista Ingeniería Industrial by Revista Ingeniería Industrial is licensed under a Creative Commons Reconocimiento 4.0 Internacional License. Creado a partir de la obra en revistas.ubiobio.cl/index.php/RI/. Puede hallar permisos más allá de los concedidos con esta licencia en http://revistas.ubiobio.cl/index.php/RI/about/