Determinación experimental de valores característicos de resistencia para Guadua angustifolia
Keywords:
amboo, guadua angustifolia, mechanical properties, elastic modulus, characteristic value, bambú, propiedades mecánicas, módulos elásticos, valor característico
Abstract
Para el diseño de estructuras que utilizan como material estructural principal el bambú Guadua angustifolia, es necesario conocer los valores característicos de sus propiedades mecánicas y módulos elásticos. En este artículo se presenta la metodología experimental utilizada para la determinación de los valores característicos de resistencia mecánica a flexión longitudinal, compresión, corte y tracción paralela a la fibra, torsión, y comprensión perpendicular a la fibra y módulos elásticos de la Guadua angustifolia. Se realizaron ensayos en probetas tomadas de la parte inferior, media y superior de culmos de guaduas provenientes de tres departamentos diferentes de Colombia. Se encontraron los valores característicos de la resistencia a compresión, tensión y corte paralelos a la fibra, flexión longitudinal, torsión y compresión perpendicular así como valores de módulo de elasticidad longitudinal y circunferencial.
Abstract
For the design of structures built with bamboo Guadua angustifolia as structural material it is necessary to know the characteristics values of its mechanical properties and elastics modulus. This article shows the experimental methodology used in the determination of characteristics values for bending, compression, shear and tensile parallel to fiber, torsion, compression perpendicular to fiber and elastics modulus for Guadua angustifolia. Tests were performed in samples taken from the bottom, middle and upper parts of culms of bamboos from three different areas of Colombia. Characteristic values of compression, tension and shear parallel to the fiber, bending, torsion and perpendicular compression strengths were found. Also the elastic longitudinal modulus and the circumferential modulus were determined.
Downloads
Download data is not yet available.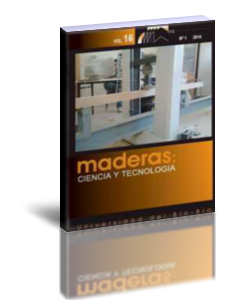 Downloads
How to Cite
Luna, P., Lozano, J., & Takeuchi, C. (2014). Determinación experimental de valores característicos de resistencia para Guadua angustifolia. Maderas-Cienc Tecnol, 16(1), 77–92. Retrieved from https://revistas.ubiobio.cl/index.php/MCT/article/view/1148
License
Los autores/as conservarán sus derechos de autor y garantizarán a la revista el derecho de primera publicación de su obra, el cuál estará simultáneamente sujeto a la 
Licencia de Reconocimiento de Creative Commons CC-BY
 que permite a terceros compartir la obra siempre que se indique su autor y su primera publicación esta revista.