Análisis de la estructura anatómica de la madera y del carbón de dos especies de sapotaceae
Keywords:
carbonized wood, anatomic structure, species identification, leño carbonizado, estructura anatómica, identificación de especies
Abstract
El carbón vegetal es un insumo energético muy utilizado en diversos segmentos de la industria siderúrgica, metalúrgica, cimientos y otras, presentando importancia económica e histórica en Brasil. Una de las formas de determinar la procedencia del carbón vegetal es identificando este material, lo que permite comprobar la legalidad de explotación, y cual es su posible origen. Este trabajo tuvo como objetivo describir la anatomía de la madera y del carbón de Pouteria macrophylla (A.DC.) Eyma y Micropholis guianensis (A.DC) Pierre, y comparar las características antes y después del proceso de carbonización, con la finalidad de suministrar más información sobre la estructura de estos materiales. Los cuerpos de prueba se carbonizaron en horno de mufla, a temperatura máxima de 450 ºC durante un período de aproximadamente 6 horas y 30 minutos. La elevada contracción de las células de Pouteria macrophylla y Micropholis guianensis durante el proceso de carbonización causó alteraciones dimensionales, que no perjudicaron el aspecto cualitativo de las características anatómicas, siendo posible la distinción de especies, e identificación del leño carbonizado a través de la descripción de la madera.
Abstract
Charcoal is an energetic input much applied in different segments of ironwork, metallurgic, cement industry and others, being important economically and historically in Brazil. One manner of determine the precedence of wood coal is the material identification, what allow to probe the legality of exploration and which is its possible origin. This paper aims to describe wood and charcoal anatomy of Pouteria macrophylla (A.DC.) Eyma and Micropholis guianensis (A.DC) Pierre, and compare the characteristics before and after carbonization process, for the purpose of increase the information about this materials. The samples were carbonized on electric muffle furnace, with maximum temperature of 450 ºC, in approximately 6 hours and 30 minutes. The elevate contraction of cells of Pouteria macrophylla and Micropholis guianensis during carbonization process result in dimensional changes, but it not affect qualitative aspects of anatomical characteristics, being possible the distinction of species and identification of charcoal by wood description.
Downloads
Download data is not yet available.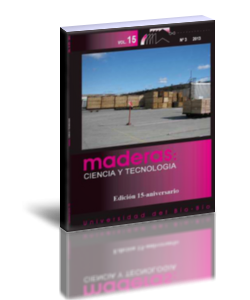 Downloads
How to Cite
Bolzon de Muñiz, G. I., Faria França, R., Edis Fiorese, A., & Nisgoski, S. (2014). Análisis de la estructura anatómica de la madera y del carbón de dos especies de sapotaceae. Maderas-Cienc Tecnol, 15(3), 311–320. Retrieved from https://revistas.ubiobio.cl/index.php/MCT/article/view/1296
License
Los autores/as conservarán sus derechos de autor y garantizarán a la revista el derecho de primera publicación de su obra, el cuál estará simultáneamente sujeto a la 
Licencia de Reconocimiento de Creative Commons CC-BY
 que permite a terceros compartir la obra siempre que se indique su autor y su primera publicación esta revista.