Contenido de duramen y de albura en Eucalyptus globulus y Acacia melanoxylon implantadas en Argentina
Keywords:
área duramen, ancho albura, volumen duramen, regresiones, variación axial, heartwood area, sapwood width, heartwood volume, regressions, axial variation
Abstract
Los objetivos del trabajo fueron determinar la proporción de duramen y el ancho de la albura en Eucalyptus globulus y Acacia melanoxylon, estudiar su variación axial en el fuste y establecer re-laciones entre duramen y el diámetro y volumen del fuste. Se muestrearon 10 árboles de E. globulus de 9 años y 10 árboles de A. melanoxylon de 19 a 32 años, en dos sitios de Buenos Aires, Argentina. En cuatro rodajas por árbol (base, 1.3 m, 30 % y 50 % de la altura total), se determinaron el área, volumen y porcentaje de duramen y el ancho de albura. En E. globulus el porcentaje de duramen dis-minuyó significativamente hacia el ápice (46 % en la base y 30 % en la última altura muestreada); en A. melanoxylon no hubo diferencias significativas (48 % a 31 %). El ancho de albura fue relativamente constante a lo largo del fuste, siendo en promedio de 26 mm para ambas especies. El volumen de du-ramen con respecto al volumen del fuste fue de 37 % para E. globulus y de 43 % para A. melanoxylon. Se hallaron regresiones lineales significativas entre el volumen del duramen y dos variables de interés comercial e inventarial: volumen  del fuste y diámetro a la altura de pecho.
Abstract
The aims of the work were to determine heartwood and sapwood content in Eucalyptus globulus and Acacia melanoxylon trees, to study their variation and to establish relationships between heart-wood and log volume and diameter. Ten trees of 9-years old E. globulus and ten trees of A. melano-xylon between 19 and 32 years old were sampled in Buenos Aires, Argentina. Heartwood area, vo-lumes and percentage, and sapwood width were measured and calculated at four discs by tree (base, 1.3 m, 30% and 50% of total height).  E. globulus heartwood percentage decreased significantly from the base upwards (46% at the base and 30% at the last sample height); in A. melanoxylon axial diff e-rences were not significant (48% to 31%). Sapwood width was relatively constant with sample height and its means were 26 mm for both species. Average heartwood volume represented 37 % of the log volume for E. globulus and 43 % for A. melanoxylon. For both species, linear regression models show positives relationships between heartwood volume and two variables of commercial and inventorial importance:  log volume and diameter at breast height.
Downloads
Download data is not yet available.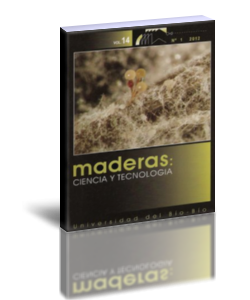 Downloads
How to Cite
Monteoliva, S., Ciganda, V., & V. Igartúa, D. (2014). Contenido de duramen y de albura en Eucalyptus globulus y Acacia melanoxylon implantadas en Argentina. Maderas-Cienc Tecnol, 14(1), 53–63. Retrieved from https://revistas.ubiobio.cl/index.php/MCT/article/view/1370
License
Los autores/as conservarán sus derechos de autor y garantizarán a la revista el derecho de primera publicación de su obra, el cuál estará simultáneamente sujeto a la 
Licencia de Reconocimiento de Creative Commons CC-BY
 que permite a terceros compartir la obra siempre que se indique su autor y su primera publicación esta revista.