Plan agregado de producción en barracas madereras. Estudio de caso para una pequeña industria
Keywords:
plan agregado, barraca maderera, tasa de producción, incorporated plan, small sawnwood mill, production rate
Abstract
La planificación de la producción en pequeñas empresas es un problema habitual, ya que muchas veces el o los ingenieros no cuentan con el tiempo o las herramientas apropiadas para hacer una buena gestión de la producción. Actualmente, los computadores personales permiten aplicar metodologías de planificación, reduciendo sofisticados problemas en simples estructuras de datos, con apoyo visual de gráficos y tablas, lo que conlleva a un mejor control, tanto de la producción como de los costos. El estudio de caso presentado corresponde al tipo de estas empresas, productora de madera aserrada de pino radiata, en la cual se aplicó una planificación agregada (PA). Se utilizaron datos del último año de producción, y se evaluaron cuatro estrategias productivas relacionadas con la fuerza laboral, el nivel de inventario, de producción y de demanda. Los resultados llevan a concluir que el método propuesto es recomendable para empresas del tamaño estudiado, ya que se puede aplicar fácilmente y permite una adecuada gestión. Con la elección empresarial elegida, fue posible reducir los costos de producción, asegurando políticas laborales y se manejó adecuadamente el nivel de inventario; se redujo en un 1,92% el costo por pulgada producida, ahorrando la empresa más de 6 millones de pesos anuales.
Abstract
The planning of the production in small-scale industries is a usual problem. Since most of the time, engineers are not provided with the time or the appropriate hardware to do a good management of the production. At the time, personal computers allow to apply methodologies of planning, reducing sophisticated problems in simple structures of data, with visual support of graphs and sheet work, which it bears to a better control, both in the production as it is costs. The study case presented corresponds to the type of these industries, producer of saw wood radiate pine, in which an aggregate production (AP) was applied. There was used information from last year´s production, and there were evaluated four productive strategies related to the labor force, the inventory level, production and demand. The results lead to conclude that the proposed method is advisable for companies of the studied size, since it possible to apply easily and allows an appropriate management. With the managerial elected election, it was possible to reduce the costs production, assuring political labor and an appropriately inventory level; the cost diminished in 1.92% for produced inch, saving the company more than 6 million Chilean pesos annual.
Downloads
Download data is not yet available.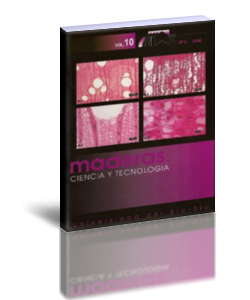 Downloads
How to Cite
del Solar S., R., Chacón C., I., & Ponce D., M. (2014). Plan agregado de producción en barracas madereras. Estudio de caso para una pequeña industria. Maderas-Cienc Tecnol, 10(2), 77–92. Retrieved from https://revistas.ubiobio.cl/index.php/MCT/article/view/1392
License
Los autores/as conservarán sus derechos de autor y garantizarán a la revista el derecho de primera publicación de su obra, el cuál estará simultáneamente sujeto a la 
Licencia de Reconocimiento de Creative Commons CC-BY
 que permite a terceros compartir la obra siempre que se indique su autor y su primera publicación esta revista.