Compuestos no-estructurales de cementos comerciales y aserrín de maderas argentinas
Keywords:
Compuestos no estructurales, biomasa vegetal, ultrasonido, curva de hidratación, Eucalyptus grandis, Poplar sp, Non-structural composites, vegetable biomass, ultrasound, hydration curve, Poplar sp.
Abstract
En el procesamiento mecánico de la madera se generan importantes volúmenes de residuos los cuales en su mayor parte aún no se emplean en la fabricación de componentes para la construcción. En este trabajo investigativo, se evaluó el comportamiento de un compuesto no-estructural de aserrín de dos especies de maderas argentinas combinadas con tres tipos de cementos comerciales. Partículas de maderas (Eucalyptus grandis  y Poplar sp) fueron sometidas a diversos tratamientos y combinadas con tres tipos de cementos comerciales (CPC40, ARI50 y CPP40). Inicialmente, la eficiencia de la reacción fue investigada por medio del ensayo calorimétrico (curva de hidratación). A seguir, probetas cilíndricas fueron sometidas al ensayo de compresión simple, después de 14 días de fabricación. Al mismo tiempo, la velocidad del pulso ultrasónico (VPU) fue evaluada durante la etapa de endurecimiento de las mezclas. Los resultados obtenidos se mostraron muy coherentes entre sí, permitiendo destacar los efectos de los factores naturaleza de la madera, tipo de cemento y tipo de tratamiento, además de las interacciones entre estos factores. La combinación más efectiva fue el empleo de partículas de E. grandis, combinadas indistintamente con los cementos CPC40 o ARI50, adicionados con 3% de cloruro de calcio.
The most part of residues generated during wood mechanic processing remains unexplored for construction material non-structural compounds production. Eucalyptus grandis and Cottonwood (Poplar sp) particles were submitted to several treatments, combining three cements (blast furnace slag, high initial strength and puzolanic). Firstly, binder reaction efficacy was investigated by means a calorimetric test (mixture hydration curves). After, cylindrical specimens were submitted to a compression test at 14 days old. Also, ultrasonic pulse velocity (UPV) was obtained during composite hardening process. Results obtained were very coherent detecting the effect of the biomass and cement types, the effect of the treatment applied to the wood particles and the interaction between these parameters. The most effective combination was obtained when a combination of E. grandis particles with blast furnace slag or high initial strength cements, both with 3% calcium chloride addition was used. 
Downloads
Download data is not yet available.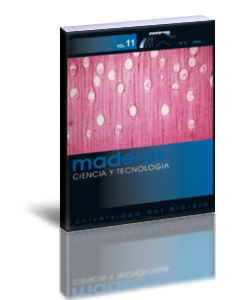 Downloads
How to Cite
L. Beraldo, A., & Balzamo, H. (2014). Compuestos no-estructurales de cementos comerciales y aserrín de maderas argentinas. Maderas-Cienc Tecnol, 11(3), 233–250. Retrieved from https://revistas.ubiobio.cl/index.php/MCT/article/view/1411
License
Los autores/as conservarán sus derechos de autor y garantizarán a la revista el derecho de primera publicación de su obra, el cuál estará simultáneamente sujeto a la 
Licencia de Reconocimiento de Creative Commons CC-BY
 que permite a terceros compartir la obra siempre que se indique su autor y su primera publicación esta revista.