Compression wood in Pinus radiata II: Density and chemical composition
Keywords:
Compression wood, radiata pine, basic density, lignin, holocellulose, alpha-cellulose, pentose, ethanol-toluene, ash, Madera de compresión, pino radiata, densidad básica, lignina, holocelulosa, alfa-celulosa, pentosano, etanol-tolueno, cenizas.
Abstract
Ten 22 year old radiata pine trees growing in two stands in Chile, one in clay and the other in humid sand soils showing some lean, were assessed for chemical composition and wood density of compres-sion wood.
Signifi cant differences in type of wood in density (33 kg/m3), lignin (1.944 %), alpha-cellulose (-2.634 %), ethanol toluene extractives (0.567 %) and pentose (0.742 %) were found between matched sample of compression and opposite woods.
Differences in juvenile and mature wood were signifi cant for both density (-4 kg/m3) and pentose (1.628 %), and site differences were found for wood density (28 kg/m3), extractives (0.978 %) and apparent for alpha cellulose (1.223%).
In comparison with other studies, our results suggested that the compression wood formed from trees with light visible lean corresponded to a mild compression class.
Se analizó la madera de compresión en diez árboles de 22 años de edad de Pinus radiata D Don creciendo en dos sitios en Chile, uno en suelo de arena húmeda y el otro en suelo arcilloso. Singulari-dades de la madera de compresión y madera opuesta se compararon en estos árboles con inclinaciones menores a 10º y excentricidades reducidas.
Diferencias signifi cativas se registraron entre madera de compresión y opuesta en los valores regis-trados para la densidad  básica de 33 (kg/m3), en proporción de lignina de 1.944 (%), en alfa-celulosa de -2.634 (%), en pentosanos de 0.742 (%) y en extraíbles en etanol-tolueno de 0.978 (%) y aparentemente diferente en el caso de alfa celulosa en 1.223 (%).
Las diferencias entre  madera  juvenil y madera madura fueron signifi cativas en los casos de la densidad de -4 (kg/m3) y en pentosanos en 1.628 (%), y diferencias entre los dos sitios para los casos de la densidad con 28 (kg/m3), en extractivos con 0.978 (%) y diferencias moderadas en alfa celulosa con 1.223 (%).
Las diferencias y coincidencias de estos resultados con los de otros autores se han considerado para estimar que la madera de compresión formada por estos árboles, con inclinaciones reducidas, corres-pondería al tipo de madera de compresión leve.
Downloads
Download data is not yet available.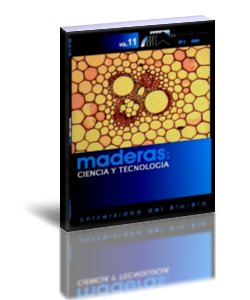 Downloads
How to Cite
Diaz-vaz, J. E., Ananías, R., Rodríguez, S., Torres, M., Fernández, A., & Poblete, H. (2014). Compression wood in Pinus radiata II: Density and chemical composition. Maderas-Cienc Tecnol, 11(2), 139–151. Retrieved from https://revistas.ubiobio.cl/index.php/MCT/article/view/1417
License
Los autores/as conservarán sus derechos de autor y garantizarán a la revista el derecho de primera publicación de su obra, el cuál estará simultáneamente sujeto a la 
Licencia de Reconocimiento de Creative Commons CC-BY
 que permite a terceros compartir la obra siempre que se indique su autor y su primera publicación esta revista.