Caracterización estructural de la madera de Pinus radiata D. Don del país vasco (España) acorde a las modificaciones normativas
Keywords:
pinus radiata, madera estructural, clases resistentes, structural timber, strength classes
Abstract
En las últimas décadas en Europa se ha promovido la promulgación de Códigos de Práctica, Directivas y Normas Armonizadas de obligado cumplimiento para los países miembros, que afectan a la madera en la construcción y que son imprescindibles para favorecer al material en su uso estructural. Debido al carácter dinámico intrínseco a las normas, y necesario para su funcionalidad, éstas sufren modificaciones en el tiempo por lo que es necesario confrontarlas con el material realmente existente. En este trabajo se realizó un muestreo representativo en el País Vasco sobre una de las especies de madera más habituales en la construcción en España como es el pino radiata (Pinus radiata D.Don), buscando la veracidad de lo disponible en el mercado tanto en calidades como en dimensiones, y se aplicó la metodología normalizada y estipulada para su caracterización. Además, en cada una de las piezas se aplicaron los criterios de clasificación visual establecidos en la norma española UNE 56.544 para la estimación de calidades. En los resultados se presentan las conclusiones obtenidas tras la aplicación de las últimas variaciones de la normativa para la determinación de las propiedades mecánicas, las cuales están implicadas en los análisis de la caracterización estructural de la madera y condicionan la asignación resistente final.
Abstract
In the last decades in Europe the promulgation of Practice Codes, Directives and Harmonised Standards of obliged fulfilment for the member countries was promoted. They affect to wood in construction and are essential to improve the material in the structural use. Due to the dynamic character proper of standards, and necessary for their functionality, these suffer modifications in the time that are necessary to check in the really existing material. In this work, a representative sampling on one of the usual species of wood in the construction in Spain, as it is the radiata pine, was carried out, looking for the veracity of the available material in the market both in qualities and sections. The standard methodology stipulated for the characterization was applied. Additionally, in each piece, the visual classification criteria established in the Spanish standard UNE 56.544 for the estimation of the strength grades, was applied. The results set forth the conclusions obtained after the application of the last changes of the regulation for the determination of mechanical properties, which are involved in the analyses of the structural characterization of timber and determine the final strength assignation.
Downloads
Download data is not yet available.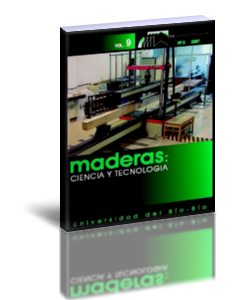 Downloads
How to Cite
E., H., J., C., & Fernández-Golfín, J. I. (2014). Caracterización estructural de la madera de Pinus radiata D. Don del país vasco (España) acorde a las modificaciones normativas. Maderas-Cienc Tecnol, 9(3), 223–232. Retrieved from https://revistas.ubiobio.cl/index.php/MCT/article/view/1422
License
Los autores/as conservarán sus derechos de autor y garantizarán a la revista el derecho de primera publicación de su obra, el cuál estará simultáneamente sujeto a la 
Licencia de Reconocimiento de Creative Commons CC-BY
 que permite a terceros compartir la obra siempre que se indique su autor y su primera publicación esta revista.