Mejoramiento De La Productividad En Una Industria Maderera Usando Incentivo Remunerativo
Keywords:
improshare, radiata pine, remanufacture lumber mill, salary policy, wage incentive, incentivo laboral, industria remanufacturera, pino radiata, política de remuneraciones
Abstract
Se estudió el efecto en la productividad de la elaboración de blanks a partir de la implementación de un modelo de incentivo salarial del tipo Improshare, dirigido al personal de una empresa chilena de remanufacturado de maderera que produce molduras y marcos de puerta (ayudante, operador medio y operador máster), para lo cual se compararon dos periodos de tiempo, antes (19 meses) y después (21 meses) de la implementación de la política de incentivo. Los resultados mostraron diferencias estadísticamente significativas en la productividad lograda entre periodos que superó el 10%. Se midió el beneficio promedio de la remuneración de los trabajadores, que llegó a más del 10% y el ahorro de la empresa llegó al 4,6% de la unidad monetaria definida, sin que se haya visto afectada la tasa de accidentabilidad. Lo anterior refuerza lo señalado por diferentes autores que concuerdan que este tipo de herramientas contribuye a mejorar la productividad del proceso e incrementar el salario del trabajador. Su implementación como política salarial en la industria maderera, aporta significativamente a los desafíos de una organización por mantenerse competitiva, así como mejorar la remuneración del trabajador en base a una relación de beneficio mutuo con la empresa.
Abstract
We studied the effect on productivity resulting in the blanks elaboration from the implementation of a salary incentive model of Improshare type for staff working group in a sawnwood mill company producer remanufacturing moldings and door frames (assistant, operator and operator master), for which two time periods were compared, before (19 months) and after (21 months) of incentive policy implementation. The results show statistically significant differences in the productivity between periods, of more than 10%. The average benefit of the workers compensation was measured, it reached more than 10% and the savings to the company reached 4,6% of defined monetary unit, without affecting the accident rate. This reinforces the point made by different authors that this kind of tool improves the productivity of the process and increases wages. Its implementation as compensation policy in the lumber industry contributes significantly to the challenges that an organization faces to remain competitive and improve workers compensation based on a mutually beneficial relationship with the company.
Downloads
Download data is not yet available.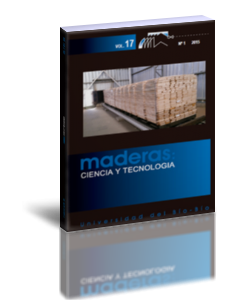 Downloads
How to Cite
Pino-Pinochet, P., Ponce-Donoso, M., Avilés-Palacios, C., & Vallejos-Barra, Óscar. (2015). Mejoramiento De La Productividad En Una Industria Maderera Usando Incentivo Remunerativo. Maderas-Cienc Tecnol, 17(1), 117–128. Retrieved from https://revistas.ubiobio.cl/index.php/MCT/article/view/192
License
Los autores/as conservarán sus derechos de autor y garantizarán a la revista el derecho de primera publicación de su obra, el cuál estará simultáneamente sujeto a la 
Licencia de Reconocimiento de Creative Commons CC-BY
 que permite a terceros compartir la obra siempre que se indique su autor y su primera publicación esta revista.