Influence of test method on biodegradation of bamboo-plastic composites by fungi
Keywords:
Bambusa arundinacea, biocomposites, Carpinus betulus, decay fungi, Gloeophyllum trabeum, Southern pine, Trametes versicolor, wood plastic composites
Abstract
The effects of differing ratios of bamboo/plastic polymers on resistance to fungal attack was assessed using two different decay test methods. Weight losses for non-treated southern pine and Carpinus betulus sapwood blocks indicated that the test conditions were suitable for aggressive decay by Gloeophyllum trabeum and Trametes versicolor. Mass losses on the bamboo/composites tended to be very low, regardless of the method employed. In general, moisture levels in the composites were extremely low although they were close to the point where fungal attack could occur when only the bamboo components were considered. The standard decay tests indicated that bamboo can be considered a suitable substitute for wood flour in wood-plastic composites.
Downloads
Download data is not yet available.
References
American Wood Protection Association. AWPA. 2012. Standard E10, AWPA Book of standards, Birmingham, Alabama.

Ashori, A.; Behzadi Shahrebabak, A.; Madhoushi, M. 2015. Effects of nanoclay and coupling agent on fungal degradation and water absorption of sanding dust/high density polyethylene composites. Journal of Composite Materials 49(9): 1107-1114.

Bari, E.; Taghiyari, H.R.; Schmidt, O.; Ghorbani, A.; Aghababaei, H. 2015. Effects of nano-clay on biological resistance of wood-plastic composite against five wood-deteriorating fungi. Maderas-Cienc Tecnol 17(1): 205-212.

Bravery, A.F. 1978. A miniaturised wood-block test for the rapid evaluation of wood preservative fungicides. Document No. IRG/WP 2113. International Research Group on Wood Protection, Stockholm.

European Committee for Standardization. EN. 2004. Wood preservatives – Test method fordetermining the protective effectiveness against wood destroying basidiomycetes. Determination of toxic values. EN-113.

Chen, H.Y.; Miao, M.H.; Ding, X. 2009. Influence of moisture absorption on the interfacial strength of bamboo/vinyl ester composites. Compos. A: Applied Sci Manuf 40: 2013-2019.

Defoirdt, N.; Gardin, S.; Van den Bulcke, J.; Van Acker, J. 2010. Moisture dynamics of WPC and the impact on fungal testing. Int Biodeterior Biodegrad 64(1): 65-72.

Farhadinejad, Z.; Ehsani, M.; Khosravian, B.; Ebrahimi, G. 2012. Study of thermal properties
of wood plastic composite reinforced with cellulose micro fibril and nano inorganic fiber filler. Eur J
Wood Prod 70(6): 823-828.

Feng, J.; Shi, Q.; Chen, Y.; Huang, X. 2014. Mold resistance and water absorption of Wood/ HDPE and Bamboo/HDPE composites. Journal of Applied Sciences 14: 776-783.

Feng, J.; Zhang, H.; He, H.; Huang, X.; Shi, Q. 2016. Effects of fungicides on mold resistance and mechanical properties of wood and bambooflour/high-density polyethylene composites. BioResource 11(2): 4069-4085.

Frank, M.; Matuana, L.M. 2008. Nanoclay reinforced HDPE as a matrix for wood-plastic composites. Composites Science and Technology 68(9): 2073-2077.

Kartal, S.N.; Aysal, S.; Terzi, E.; Yilgor, N.; Yoshimura, T.; Tsunoda, K. 2013. Wood and Bamboo-PP composites: Fungal and termite resistance, water absorption and FT-IR analysis. BioResource 8: 1222-1244.

Kim, J.W.; Harper, D.P.; Taylor, A.M. 2008. Effect of wood species on water sorption and durability of wood-plastic composites. Wood Fiber Sci 40(4): 519-531.

Kim, J.W.; Harper, D.P.; Taylor, A.M. 2009. Effect of extractives on water sorption and durability of wood-plastic composites. Wood Fiber Sci 41(3): 279-290.

Klyosov, A.A. 2007. Wood-plastic composites. John Wiley and Sons, Inc. Liese, W. 1985. Bamboos - biology, silvics, properties, utilization. Schriftenreihe Gesellschaft für Technische Zusammenarbeit, Eschborn, 180, p.132.

Mankowski, M.; Morrell, J.J. 2000. Patterns of fungal attack in wood-plastic composites following exposure in a soil block test. Wood Fiber Sci 32(3): 340-345.

Morrell, J.J.; Stark, N.M.; Pendleton, D.E.; McDonald, A.G. 2006. Durability of wood-plastic composites. Wood Design Focus 16(3): 7-10.

Muller, M.; Gellerich, A.; Militz, H.; Krause, A. 2013. Resistance of modified polyvinyl chloride/ wood flour composites to basidiomycetes. Eur J Wood Prod 71: 199-204.

Naghipour, B. 1996. Effects of extreme environmental conditions and fungal exposure on the properties of wood-plastic composites. M.S. Thesis, Faculty of Forestry, University of Toronto, Toronto, Ontario, Canada. p. 79.
Rowell, R.M. 2007. Challenges in biomass-thermoplastic composites. J Polym Environ 15(4):229-235.

Schirp, A.; Wolcott, M.P. 2005. Influence of fungal decay and moisture absorption on mechanical properties of extruded wood-plastic composites. Wood Fiber Sci 37: 643-652.

Schmidt, E. 1993. Decay testing and moisture changes for a plastic-wood composite. Proc Am Wood-Preserv Assoc 89: 108-109.

Schmidt, O.; Wei, D.S.; Liese, W.; Wollenberg, E. 2011. Fungal degradation of bamboo samples. Holzforschung 65: 883-888.

Wei, L.; McDonald, A.G.; Freitag, C.; Morrell, J.J. 2013. Effects of wood fiber esterification on properties, weatherability and biodurability of wood plastic composites. Polymer Degradation and Stability 98(7): 1348-1361.

Verhey, S.A.; Laks, P.E.; Richter, D.L. 2002. Laboratory decay resistance of wood fiber/ thermoplastic composites. Sixth International Conference on Wood Fiber Plastic Composites, the Forest Products Society, Madison,
Wisconsin. pp. 79-86.

Zabel, R.A.; Morrell, J.J. 1992. Wood microbiology: decay and its prevention. Academic Press, New York.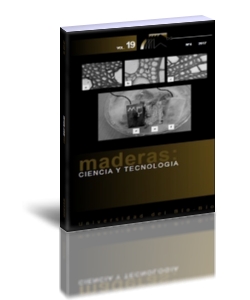 Downloads
How to Cite
Bari, E., Sistani, A., Taghiyari, H. R., Morrell, J. J., & Cappellazzi, J. (2017). Influence of test method on biodegradation of bamboo-plastic composites by fungi. Maderas-Cienc Tecnol, 19(4), 455–462. Retrieved from https://revistas.ubiobio.cl/index.php/MCT/article/view/2980
License
Los autores/as conservarán sus derechos de autor y garantizarán a la revista el derecho de primera publicación de su obra, el cuál estará simultáneamente sujeto a la 
Licencia de Reconocimiento de Creative Commons CC-BY
 que permite a terceros compartir la obra siempre que se indique su autor y su primera publicación esta revista.