Veinte años después: Enfocados en las Ciencias de la Madera
Keywords:
madera, Journal Citation Report, Scimago Journal Rank, wood, Redib
Abstract
Durante el presente año nuestra revista está celebrando 20 años de sostenida comunicación y diseminación de los hallazgos de la investigación en el ámbito disciplinario de las Ciencias de la Madera. En particular, se han publicado 60 números con la presente edición enfocados con una visión multidisciplinaria en contribuir al desarrollo de las Ciencias de la Madera. En tal sentido y de acuerdo con el Journal Citation Report 2017 (JCR 2017), la revista obtuvo la posición 9 entre 21 revistas del área de Materials Science: Wood & Paper, quedando entre el 50% de las revistas de mayor impacto en la disciplina (cuartil Q2) y ha evolucionado los últimos 5 años hasta alcanzar poco más de una cita por artículo publicado, esto es, un factor de impacto igual a 1,014 el año 2017 (Figura 1). Otros indicadores de lo señalado, tal como el CiteScore 2017 de 1,08 (CiteScore 2017) y la posición en el cuartil Q1 según el Scimago Journal Rank (SJR 2017), refuerzan la evolución científica internacional de la revista enfocada en la disciplina de las Ciencias de la Madera.
Downloads
Download data is not yet available.
References
Ananías, R.A. 2016. Contribución al desarrollo de la industria maderera de alto valor: fortaleciendo las capacidades humanas científicas y tecnológicas. Maderas-Cienc Tecnol 18(4): 531-532.

CiteScore. 2017. Scopus Journal Metric. <https://www.scopus.com/sources>.

JCR. 2017. Journal Citation Report. Clarivate Analyitics. Web of Science.

Redib. 2018. Ranking de revistas de la Red Iberoamericana de Innovación y Conocimiento Científico. <https://redib.org/recursos/Ranking/Revistas?lng=es>.

SJR. 2017. Scimago Journal Rank. Engineering, Industrial and Manufacturing Enginering. <https://www.scimagojr.com/journalrank.php?area=2200&category=2209>.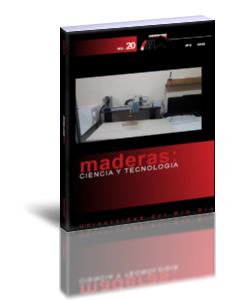 Downloads
How to Cite
Ananias, R. A. (2018). Veinte años después: Enfocados en las Ciencias de la Madera. Maderas-Cienc Tecnol, 20(4), 529–530. Retrieved from https://revistas.ubiobio.cl/index.php/MCT/article/view/3456
License
Los autores/as conservarán sus derechos de autor y garantizarán a la revista el derecho de primera publicación de su obra, el cuál estará simultáneamente sujeto a la 
Licencia de Reconocimiento de Creative Commons CC-BY
 que permite a terceros compartir la obra siempre que se indique su autor y su primera publicación esta revista.