Decay resistance of scotch pine wood impregnated with Agaricus campestris bio-protective extract
Keywords:
Biodeterioration, bio-protective, Pinus sylvestris, wood decay, wood extracts
Abstract
In this study, it was investigated the possibilities of the use of fungal extract as wood protection solution against wood-degrading fungi. For that purpose, the decay resistance of Scotch pine wood samples, impregnated with Agaricus campestris fungal extract, was observed against the brown rot fungus Coniophora puteana. Impregnation procedure was applied at four different concentration levels and with two different extraction methods (hot water and methanol). The concentration levels were arranged as 1%, 3%, 5%, 7% for hot water and as 1.25%, 3.75%, 6.25%, 8.75% for methanol. The wood protective efficacy of extract solutions was determined by means of fungi decay test. The mass losses of the samples treated with both fungal extracts ranged from 3.53 to 20.91. The lowest mass losses in hot water (4.57%) and methanol extractions (3.53%) were seen in the samples treated at the highest concentration levels (7% and 8.75%). The wood samples impregnated at 7% and 8.75% concentration levels met the requirements of durability class 1 and were classified as very durable. Antifungal activity of methanol extract was stronger than that of the hot water extract. The variations which concentration levels were less than 7% did not have adequate protection to meet the requirements of the European norms.
Downloads
Download data is not yet available.
References
American Society for Testing and Materials. ASTM. 1994. Standard test method for wood preservatives by laboratory soil-block cultures. ASTM D-1413-76. 1994.

Bahmani, M.; Schmidt, O. 2018. Plant essential oils for environment-friendly protection of wood objects against fungi. Maderas-Cienc Tecnol 20(3): 325-332.

Brown, C.J.; Eaton, R.A.; Thorp, C.H. 2001. Effects of chromated copper arsenate (CCA) wood preservative on early fouling community formation. Marine Pollution Bulletin 42(11): 1103-1113.

Bruce, A.; Highley, T.L.1991. Control of growth of wood decay Basidiomycetes by Trichoderma spp. and other potentially antagonistic fungi. Forest Products Journal 41(2): 63-67.

Butt, T.M.; Jackson, C; Magan, N. 2001. Fungi as Biocontrol Agents: Progress, Problem and Potential. CABI Publishing: Wallingford, Oxon, UK. 398p.

Calhoun, L.A.; Findlay, J.A.; Miller, J.D.; Whitney, N.J. 1992. Metabolites toxic to spruce budworm from balsam fir needle endophytes. Mycological Research 96(4): 281-286.

Dennis, C.; Webster, J. 1971. Antagonistic properties of species-groups of Trichoderma: I. Production of non-volatile antibiotics. Transactions of the British Mycological Society 57(1): 25-39.

Desrochers, P.; Ouellette, G. 1994. Phaeotheca dimorphospora sp. nov.: description et caractéristiques culturales. Canadian Journal of Botany 72(6): 808-817.

European Committee for Standardization. EN. 1996. Durability of wood and wood-based products. Natural durabilityof solid wood. Guide to the principles of testing and classi-fication of natural durability of wood. EN 350-1. 1996.

European Committee For Standardization. EN. 1996. Wood Preservatives. Test Method for Determining the Protective Effectiveness Against Wood Destroying Basidiomycetes. Determination of the Toxic Values. EN 113. 1996. Brussells. Belgium.

Gao, Y.; Chan, E.; Zhou, S. 2004. Immunomodulating activities of Ganoderma, a mushroom with medicinal properties. Food Reviews International 20(2): 123-161.

Highley, T.L. 1997. Control of wood decay by Trichoderma (Gliocladium) virens I. Antagonistic properties. Material und Organismen 31(2): 79-90.

Jo, W.S.; Hossain, M.; Park, S.C. 2014. Toxicological profiles of poisonous, edible, and medicinal mushrooms. Mycobiology 42(3): 215-220.

Nurudeen, T.; Abiola, J.; Ekpo, E.; Olasupo, O.; Haastrup, N.; Okunrotifa, A. 2012. Effects of plant extracts as preservative against wood decay fungus Sclerotium rolfsii (Sacc). Journal of Forestry Research and Management 9: 73-82.

Okeke, B.; Steiman, R.; Benoit, J.W. 1992. Production of fungicides from fungal metabolites: a new perspective in the biological control of Pyricularis oryzae. Med Fac Landbouww Univ Gent 57: 403-410.

Overeem, J.; Mackor, A. 1973. Scytalidic acid, a novel compound from Scytalidium species. Recueil des Travaux Chimiques des Pays-Bas 92(3): 349-359.

Pánek, M.; Reinprecht, L.; Hulla, M. 2014. Ten essential oils for beech wood protection-Efficacy against wood-destroying fungi and moulds, and effect on wood discoloration. BioResources 9(3): 5588-5603.

Ricard, J.; Wilson, M.; Bollen, W. 1969. Biological control of decay in Douglas-fir poles. Forest Product Journal 19(8): 41-45.

Sen, S.; Tascioglu, C.; Tirak, K. 2009. Fixation, leachability, and decay resistance of wood treated with some commercial extracts and wood preservative salts. International Biodeterioration & Biodegradation 63(2): 135-141.

Sen, S.; Yalçin, M.; Tasçioglu, C.; Özbayram, A.K. 2017. Larvicidal activities of some bark and wood extracts against wood-damaging insects. Maderas-Cienc Tecnol 19(3): 273-284.

Stillwell, M.; Wall, R.; Strunz, G. 1973. Production, isolation, and antifungal activity of scytalidin, a metabolite of Scytalidium species. Canadian Journal of Microbiology 19(5): 597-602.

Stranks, D. 1976. Scytalidin, hyalodendrin, cryptosprriopsin--antibiotics for prevention of blue stain in white pine sapwood. Wood Science 9: 110-112.

Strunz, G.; Kakushima, M.; Stillwell, M. 1972. Scytalidin: a new fungitoxic metabolite produced by a Scytalidium species. Journal of the Chemical Society, Perkin Transactions 1 18: 2280-2283.

Sudirman, L.I.; Housseini, A.I.; Le Febvre, G.; Kiffer, E.; Botton, B. 1992. Screening of some basidiomycetes for biocontrol of Rigidoporus lignosus, a parasite of the rubber tree Hevea brasiliensis. Mycological Research 96(8): 621-625.

Van Acker, J.; Stevens, M.; Carey, J.; Sierra-Alvarez, R.; Militz, H.; Le Bayon, I.; Kleist, G.; Peek, R.D. 2003. Biological Durability of Wood in Relation to End-Use, Part 1. Towards A European Standard for Laboratory Testing of the Biological Durability of Wood. Holz als Roh-und Werkstoff 61: 35-45.

Wasser, S. 2002. Medicinal mushrooms as a source of antitumor and immunomodulating polysaccharides. Applied Microbiology and Biotechnology 60(3): 258-274.

Yang, D.Q. 2009. Potential utilization of plant and fungal extracts for wood protection. Forest Products Journal 59(4): 97-97.

Yang, D.; Plante, F.; Bernier, L.; Piché, Y.; Dessureault, M.; Laflamme, G.; Ouellette, G. 1993. Evaluation of a fungal antagonist, Phaeotheca dimorphospora, for biological control of tree diseases. Canadian Journal of Botany 71(3): 426-433.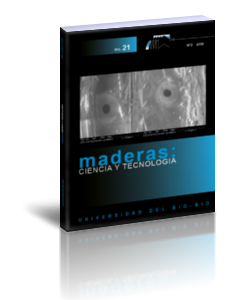 Downloads
How to Cite
Yildiz, S., C. Yildiz, Ümit, & Yilmaz, A. (2019). Decay resistance of scotch pine wood impregnated with Agaricus campestris bio-protective extract. Maderas-Cienc Tecnol, 21(3), 405–412. Retrieved from https://revistas.ubiobio.cl/index.php/MCT/article/view/3562
License
Los autores/as conservarán sus derechos de autor y garantizarán a la revista el derecho de primera publicación de su obra, el cuál estará simultáneamente sujeto a la 
Licencia de Reconocimiento de Creative Commons CC-BY
 que permite a terceros compartir la obra siempre que se indique su autor y su primera publicación esta revista.