Status of production, distribution and determinants of biomass briquette acceptability in kampala, uganda
Keywords:
Acceptability, biomass residues, distribution, briquettes, fuel, marketability
Abstract
Biomass briquettes have been   identified as a plausible and close alternative to commonly used energy fuels such as charcoal and firewood whose prices are escalating due to the dwindling natural resource base. However, briquettes do not seem to be as popular as would be expected. This study assessed the production, distribution and acceptability of the briquettes in Kampala district. A total of 60 respondents, 50 of whom were briquette users and 10 briquette producers were sampled from five divisions of Kampala district to evaluate consumer acceptability, preference for briquette type and shape. Households and institutions were identified to be the major consumers of briquettes while community-based organizations were the major distributors of briquettes. The Chi square test of independence showed significant association between briquette acceptability and briquette attributes of substitutability and low cost (p<0.05). The Kruskal Wallis test showed that low income class people preferred non-carbonized briquettes. Gender, marital status and income level also cause variation in preference for spherical, stick and honey comb briquettes (p<0.05). The major challenges faced by briquette users in Kampala were; production of a lot of ash, frequent crushing and limited access of briquettes. The producers of briquettes were mainly challenged by regular machine breakdown, raw material scarcity and poor carbonizing units. It was concluded that briquettes have market and are generally accepted in Kampala. However, user preferences need to be taken into account by briquette produces, suitable cook stoves should be availed to users and there is need for standards to ensure quality of briquettes.
Downloads
Download data is not yet available.
References
Akowuah, J. O.; Kemausuor, F.; Mitchual, S. J. 2012. Physico-Chemical Characteristics and Market Potential of Sawdust charcharcoal Briquette. In Proceedings of the 55th International Convention of Society of Wood Science and Technology (pp. 1–11). Beijing, China.
Bagabo, S.; Kaluya, G.; Balitta, P.; Mukose, M. 2014. Assessing the feasibility of commercial charcharcoal production systems in Uganda. Report Produced for FAO and Sawlog Production Grant Scheme by Integrated Rural Development Initiatives 1(1): 12–15.
Dasappa, S. 2011. Potential of biomass energy for electricity generation in sSub-Saharan Africa. Energy Sustain Dev 15(1): 203–233.
Ferguson, H. 2012. Briquette Businesses in Uganda The potential for briquette enterprises to address the sustainability of the Ugandan biomass fuel market. GVEP International.
Fund, C. 2003. Feasibility and impact assessment of a proposed project to briquette municipal solid waste for use as a cooking fuel in Rwanda.
Karunanithy, C.; Wang, Y.; Muthukumarappan, K.; Pugalendhi, S. 2012. Physiochemical characterization of briquettes made from different feedstocks. Biotechnology Research International 8(2):1–2.
Mahoro, B. G.; Eniru, E. I.; Omuna, D.; Yusuf, A. A. 2017. Performance of Biomass Briquettes as an Alternative Energy Source Compared to Wood charcharcoal in Uganda. International Journal of Scientific Engineering and Science 1(6): 55–60.
MEMD, M. O. F.; Report, F. 2016. National charcharcoal Survey for Uganda 2015, 1–134
Mutea, E. 2015. Socio-economic factors influencing adoption of improved biomass energy technologies in rural and urban households in Kitui, Kenya.
Mwampamba, T. H.; Owen, M.; Pigaht, M. 2013. Opportunities, challenges and way forward for the charcharcoal briquette industry in Sub-Saharan Africa. Energy for Sustainable Development 17(2): 158–170. https://doi.org/10.1016/j.esd.2012.10.006
Namaalwa, J.; Hofstad, O.; Sankhayan, P. L. 2009. Achieving sustainable charcharcoal supply from woodlands to urban consumers in Kampala, Uganda. International Forestry Review 11(1): 64–78.
Njenga, M.; Karanja, N.; Prain, G.; Malii, J.; Munyao, P.; Gathuru K. 2009. Community-based energy briquette production from urban organic waste at Kahawa Soweto informal settlement, Nairobi. In Urban Harvest Working Paper Series, no. 5. Lima, Peru: International Potato Center;
Oladeji, J. T. 2015. Theoretical aspects of biomass briquetting: a review study. Journal of Energy Technologies and Policy 5(3): 72.
Spirchez, C. ; Lunguleasa, A. ; Matei, M,. 2018. Particularities of hollow-core briquettes obtained out of spruce and oak wooden waste. Maderas – Cienc Tecnol 20(1): 139-152.
Sseruwagi, R.; Bukenya, H. 2016. Effectiveness of briquettes as an alternative cooking fuel for households in Uganda. www.energyincubator.org. accessed May 2019.
UBOS. 2014. 2014 Census Population. Uganda National Population and Housing Census Resulte.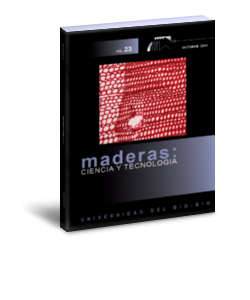 Downloads
How to Cite
Mugabi, P. ., & Kisakye, D. . (2021). Status of production, distribution and determinants of biomass briquette acceptability in kampala, uganda. Maderas-Cienc Tecnol, 23, 1–8. Retrieved from https://revistas.ubiobio.cl/index.php/MCT/article/view/4485
License
This work is licensed under a Creative Commons Attribution 4.0 International License.
Los autores/as conservarán sus derechos de autor y garantizarán a la revista el derecho de primera publicación de su obra, el cuál estará simultáneamente sujeto a la 
Licencia de Reconocimiento de Creative Commons CC-BY
 que permite a terceros compartir la obra siempre que se indique su autor y su primera publicación esta revista.