La influencia del paisaje sonoro en la calidad del entorno urbano. Un estudio en la ciudad de Popayán (Colombia)
Palabras clave:
paisaje sonoro, ruido urbano, cartografías sonoras, planeamiento urbano, sistemas de información geográfica
Resumen
El paisaje sonoro urbano se compone de características físicas y perceptuales. Su estudio permite comprender la interacción entre la ciudadanía y el entorno acústico en el que esta vive. El presente trabajo examina el paisaje sonoro del casco histórico de Popayán (Colombia). En tal sentido, se realizaron 121 mediciones de ruido y 50 registros de sonoridad percibida in situ con el fin de obtener mapas del paisaje sonoro urbano que permitieron su evaluación integral. Los resultados verifican la dependencia entre los patrones de comportamiento espaciotemporal y sugieren que su variabilidad podría influir en la experiencia sonora de la ciudad latinoamericana. Se concluye que el paisaje sonoro debe ser adoptado durante los procesos de planeamiento urbano. Desde esa perspectiva, cabe tener en cuenta parques urbanos y áreas verdes, no solo por motivos ambientales y de otro tipo ya sobradamente conocidos, sino con el fin de proveer paisajes sonoros más sanos y equilibrados a la ciudad y sus habitantes. Asimismo, se recomienda ampliar la escala en futuros estudios y profundizar en la relación entre el espacio público abierto y su paisaje sonoro resultante.
Descargas
Los datos de descargas todavía no están disponibles.
Citas
AGNEW, John. Space and Place. En: AGNEW, John y LIVINGSTONE, David (eds.). Handbook of Geographical Knowledge. Londres: Sage, 2011, pp. 316-331.

ALCALDÍA DEL MUNICIPIO DE POPAYÁN. Plan Especial de Manejo y Protección del Sector Antiguo de Popayán. Popayán: Gobierno del Municipio de Popayán, 2010.

ARJUNAN, Arun; WANG, Chang; YAHIAOUI, Kadda; MYNORS, Diane; MORGAN, Tertia; NGUYEN, Van Bac y ENGLISH, Martin. Development of a 3D Finite Element Acoustic Model to Predict the Sound Reduction Index of Stud Based Double-Leaf Walls, Journal of Sound and Vibration, 2014, vol. 333, n° 23, pp. 6140-6155.

BERGLUND, Birgitta; LINDVALL, Thomas y SCHWELA, Dietrich H. (eds.). Guidelines for Community Noise, Geneva: World Health Organization, 1999.

BROWN, A. L.; KANG, Jian y GJESTLAND, Truls. Towards Standardization in Soundscape Preference Assessment, Applied Acoustics, 2011, vol. 72, n° 6, pp. 387-392.

BRUCE, Neil. y DAVIES, William. The Effects of Expectation on the Perception of Soundscapes, Applied Acoustics, 2014, vol. 85, pp. 1-11.

CAN, Arnaud; LECLERCQ, Ludovic y LELONG, Joel. Dynamic Estimation of Urban Traffic Noise: Influence of Traffic and Noise Source Representations, Applied Acoustics, 2008, vol. 69, n° 10, pp. 858-867.

CERWÉN, Gunnar. Urban Soundscapes: A Quasi-Experiment in Landscape Architecture, Landscape Research, 2016, vol. 41, n° 5, pp. 481-494.

DANE [DEPARTAMENTO NACIONAL ADMINISTRATIVO DE ESTADÍSTICA]. Boletín censo general: Perfil Popayán, Cauca, Colombia. Bogotá: DANE, 2005.

DAVIES, William; ADAMS, Mags; BRUCE, Neil; CAIN, Rebecca; CARLYLE, Angus; CUSACK, Peter; HALL, Deborah; HUME, Ken; IRWIN, Amy; JENNINGS, Paul; MARSELLE, Melissa; PLACK, Christopher y POXON, John. Perception of Soundscapes: An Interdisciplinary Approach. Applied Acoustics, 2013, vol. 74, n° 2, pp. 224-231.

GERAGHTY, Dermot y O'MAHONY, Margaret. Investigating the Temporal Variability of Noise in an Urban Environment, International Journal of Sustainable Built Environment, 2016, vol. 5, n° 1, pp. 34-45.

GILL, Sharon; GRABARCZYK, Erin-; BAKER, Kathleen; NAGHSHINEH, Koorosh y VONHOF, Maarten. Decomposing an Urban Soundscape to Reveal Patterns and Drivers of Variation in Anthropogenic Noise, Science of the Total Environment, 2017, vol. 599, pp. 1191-1201.

GOOVAERTS, Pierre. Geostatistics in Soil Science: State-of-the-Art and Perspectives. Geoderma, 1999, vol. 89, n° 1-2, pp. 1-45.

GOZALO, G. Rey; CARMONA, José Trujillo; BARRIGÓN, Juan Miguel; VILCHEZ- GÓMEZ, Rosendo y GÓMEZ, Valentín. Relationship between Objective Acoustic Indices and Subjective Assessments for the Quality of Soundscapes, Applied Acoustics, 2015, vol. 97, pp. 1-10.

HAO, Yiying y KANG, Jian. Influence of Mesoscale Urban Morphology on the Spatial Noise Attenuation of Flyover Aircrafts, Applied Acoustics, 2014, vol. 84, pp. 73-82.

HARMAN, Bilgehan Ilker; KOSEOGLU, Hasan y YIGIT, Cemal Ozer. Performance Evaluation of IDW, Kriging and Multiquadric Interpolation Methods in Producing Noise Mapping: A Case Study at the City of Isparta, Turkey, Applied Acoustics, 2016, vol. 112, pp. 147-157.

HERMIDA, Luis y PAVÓN, Ignacio. Spatial Aspects in Urban Soundscapes: Binaural Parameters Application in the Study of Soundscapes from Bogotá- Colombia and Brasília-Brazil. Applied Acoustics, 2019, vol. 145, pp. 420-430.

HONG, Joo Young y JEON, Jin Yong. Exploring Spatial Relationships among Soundscape Variables in Urban Areas: A Spatial Statistical Modelling Approach. Landscape and Urban Planning, 2017, vol. 157, pp. 352-364.

ISO [INTERNATIONAL ORGANIZATION FOR STANDARDIZATION]. ISO 12913-1: 2014. Acoustics–Soundscape–Part 1: Definition and Conceptual Framework, 2014.

ISO [INTERNATIONAL ORGANIZATION FOR STANDARDIZATION]. ISO 12913-2: 2018. Acoustics–Soundscape–Part 2: Data Collection and Reporting Requirements, 2018.

JENNINGS, Paul y CAIN, Rebecca. A Framework for Improving Urban Soundscapes, Applied Acoustics, 2013, vol. 74, n° 2, pp. 293-299.

JEON, Jin Yong; HONG, Joo Young; LAVANDIER, Catherine; LAFON, Jeanne; AXELSSON, Östen y HURTIG, Malin. A Cross-National Comparison in Assessment of Urban Park Soundscapes in France, Korea, and Sweden through Laboratory Experiments, Applied Acoustics, 2018, vol. 133, pp. 107-117.

JOO, Wooyeong; GAGE, Stuart y KASTEN, Eric. Analysis and Interpretation of Variability in Soundscapes along an Urban–Rural Gradient, Landscape and Urban Planning, 2011, vol. 103, n° 3-4, pp. 259-276.

KANG, Jian; ALETTA, Francesco; GJESTLAND, Truls; BROWN, Lex; BOTTELDOOREN, Dick; SCHULTE-FORTKAMP, Brigitte; LERCHER, Peter; KAMP, Irene van; GENUIT, Klaus; FIEBIG, André; COELHO, Luis Bento; MAFFEI, Luigi y LAVIA, Lisa. Ten Questions on the Soundscapes of the Built Environment, Building and Environment, 2016, vol. 108, pp. 284-294.

LEE, Shi-Won; CHANG, Seo Il y PARK, Young-Min. Utilizing Noise Mapping for Environmental Impact Assessment in a Downtown Redevelopment Area of Seoul, Korea, Applied Acoustics, 2008, vol. 69, n° 8, pp. 704-714.

LEUS, Maria y HERSSENS, Jasmien. The Soundscapes of Antwerp: A Study on the Acoustic Genius Loci, Energy Procedia, 2015, vol. 78, pp. 25-30.

LIU, Fangfang y KANG, Jian. A Grounded Theory Approach to the Subjective Understanding of Urban Soundscape in Sheffield, Cities, 2016, vol. 50, pp. 28- 39.

LIU, Jiang; KANG, Jian; LUO, Tao; BEHM, Holger y COPPACK, Timothy. Spatiotemporal Variability of Soundscapes in a Multiple Functional Urban Area, Landscape and Urban Planning, 2013, vol. 115, pp. 1-9.

MARISTANY, Arturo; LÓPEZ, Manuel y RIVERA, César. Soundscape Quality Analysis by Fuzzy Logic: A Field Study in Córdoba, Argentina, Applied Acoustics, 2016, vol. 111, pp. 106-115.

NEMETH, Erwin y BRUMM, Henrik. Blackbirds Sing Higher-Pitched Songs in Cities: Adaptation to Habitat Acoustics or Side-Effect of Urbanization?, Animal Behaviour, 2009, vol. 78, n° 3, pp. 637-641.

NILSSON, Mats y BERGLUND, Birgitta. Assessment of Outdoor Soundscapes in Quiet Areas, The Journal of the Acoustical Society of America, 2005, vol. 117, n° 4, pp. 2592-2592.

NOGUÉ, Joan; PUIGBERT, Laura; SALA, Pere y BRETCHA, Gemma. Paisatge i participació ciutadana. Olot/Barcelona: Observatori del Paisatge de Catalunya/Direcció General de Participació Ciutadana del Departament d'Interior, Relacions Institucionals i Participació Ciutadana de la Generalitat de Catalunya, 2010.

OECD [ORGANISATION FOR ECONOMIC CO-OPERATION AND DEVELOPMENT]. OECD Environmental Indicators. Development, Measurement and Use. París: OECD, 2003.

OU, Dayi; MAK, Cheuk Ming y PAN, Sensen. A Method for Assessing Soundscape in Urban Parks Based on the Service Quality Measurement Models, Applied Acoustics, 2017, vol. 127, pp. 184-193.

PALLAS, Marie-Agnès; CHATAGNON, Roger y LELONG, Joël. Noise Emission Assessment of a Hybrid Electric Mid-Size Truck, Applied Acoustics, 2014, vol. 76, pp. 280-290.

PARLAMENTO EUROPEO y CONSEJO. Directiva 2002/49/CE del Parlamento Europeo y del Consejo, de 25 de junio de 2002, sobre evaluación y gestión del ruido ambiental, Diario Oficial, 2002, n° L 189 (18/07/2002), pp. 12-26.

PIJANOWSKI, Bryan; FARINA, Almo; GAGE, Stuart; DUMYAHN, Sarah y KRAUSE, Bernie. What Is Soundscape Ecology? An Introduction and Overview of an Emerging New Science, Landscape Ecology, 2011, vol. 26, n° 9, pp. 1213-1232.

QUIÑONES-BOLAÑOS, Edgar; BUSTILLO-LECOMPTE, Ciro y MEHRVAR, Mehrab. A Traffic Noise Model for Road Intersections in the City of Cartagena de Indias, Colombia, Transportation Research Part D: Transport and Environment, 2016, vol. 47, pp. 149-161.

RAIMBAULT, Manon y DUBOIS, Daniele. Urban Soundscapes: Experiences and Knowledge, Cities, 2005, vol. 22, n° 5, pp. 339-350.

REHAN, Reeman Mohammed. The Phonic Identity of the City Urban Soundscape for Sustainable Spaces, HBRC Journal, 2016, vol. 12, no 3, pp. 337- 349.

SÁNCHEZ-GENDRIZ, Ignacio y RODRIGUES, Linilson. Underwater Soundscape of Marine Protected Areas in the South Brazilian Coast, Marine Pollution Bulletin, 2016, vol. 105, n° 1, pp. 65-72.

SCHAEFFER, Pierre. La musique concrète. París: Presses Universitaires de France, 1967.

SCHAFER, Raymond Murray. The Soundscape: Our Sonic Environment and the Tuning of the World. New York: Knopf, 1977.

STANNERS, David y BOURDEAU, Philipppe. Europe's Environment: The Dobříš Assessment. Luxemburgo: Office for Official Publications of the European Communities, 1995.

STOTER, Jantien; DE KLUIJVER, Henk y KURAKULA, Vinaykumar. 3D Noise Mapping in Urban Areas, International Journal of Geographical Information Science, 2008, vol. 22, n° 8, pp. 907-924.

SUÁREZ, Enrique y BARROS, J. L. Traffic Noise Mapping of the City of Santiago de Chile, Science of the Total Environment, 2014, vol. 466, pp. 539-546.

SZEREMETA, Bani y ZANNIN, Paulo Henrique. Analysis and Evaluation of Soundscapes in Public Parks through Interviews and Measurement of Noise, Science of the Total Environment, 2009, vol. 407, n° 24, pp. 6143-6149.

TRUAX, Barry. Acoustic Space, Architecture and Acoustic Ecology. En: Proceedings of the Architecture, Music, Acoustics Conference. Toronto: Ryerson University, 2006.

TSAI, Kang-Ting; LIN, Min-Der y CHEN, Yen-Hua. Noise Mapping in Urban Environments: A Taiwan Study, Applied Acoustics, 2009, vol. 70, n° 7, pp. 964- 972.

WATTS, Greg R. y PHEASANT, Robert J. Tranquility in the Scottish Highlands and Dartmoor National Park–The Importance of Soundscapes and Emotional Factors, Applied Acoustics, 2015, vol. 89, pp. 297-305.

WEI, Weigang; VAN RENTERGHEM, Timothy; DE COENSEL, Bert y BOTTELDOOREN, Dick. Dynamic Noise Mapping: A Map-Based Interpolation between Noise Measurements with High Temporal Resolution, Applied Acoustics, 2016, vol. 101, pp. 127-140.

WHO [WORLD HEALTH ORGANIZATION]. Environmental Noise Guidelines for the European Region. Copenhagen: WHO Regional Office for Europe, 2018.

YANG, Wei y KANG, Jian. Soundscape and Sound Preferences in Urban Squares: A Case Study in Sheffield, Journal of Urban Design, 2005, vol. 10, n° 1, pp. 61-80.

ZANNIN, Paulo Henrique; ENGEL, Margret; FIEDLER, Paulo y BUNN, Fernando. Characterization of Environmental Noise Based on Noise Measurements, Noise Mapping and Interviews: A Case Study at a University Campus in Brazil, Cities, 2013, vol. 31, pp. 317-327.

ZHANG, Xu; BA, Meihui; KANG, Jian y MENG, Qi. Effect of Soundscape Dimensions on Acoustic Comfort in Urban Open Public Spaces, Applied Acoustics, 2018, vol. 133, pp. 73-81.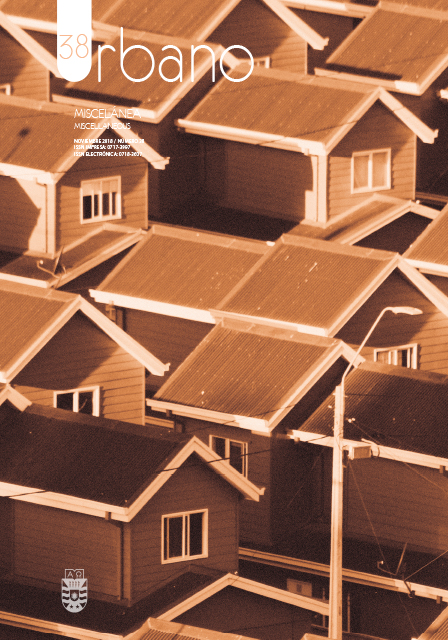 Cómo citar
Grijalba-Obando, J. A., & Paül-Carril, V. (2018). La influencia del paisaje sonoro en la calidad del entorno urbano. Un estudio en la ciudad de Popayán (Colombia). Urbano, 21(38), 70–83. https://doi.org/10.22320/07183607.2018.21.38.06
Licencia
El contenido de los artículos y reseñas que se publican en cada número de Urbano, es responsabilidad exclusiva de los autores y no representan necesariamente el pensamiento ni comprometen la opinión de la Universidad del Bío-Bío.

Las/os autoras/es conservarán sus derechos de autor, sin embargo, garantizarán a la revista el derecho de primera publicación y difusión de su obra. La publicación del artículo en Urbano estará sujeta a la Licencia de Reconocimiento de Creative Commons CC BY-SA que permite a otros compartir-copiar, transformar o crear nuevo material a partir de esta obra para cualquier propósito, incluso comercialmente, siempre y cuando se reconozcan la autoría y la primera publicación en esta revista, y sus nuevas creaciones estén bajo una licencia con los mismos términos.