Caracterización mecánica y morfológica de termoplásticos reciclados espumados reforzados con sub productos de madera
Keywords:
wood plastic composite, recycled polyethylene, azodicarbonamide, mechanical properties, radiata pine, materiales compuestos madera-plástico, polietileno reciclado, azodicarbonamida, propiedades mecánicas, pino radiata
Abstract
El objetivo del presente estudio fue observar la morfología y caracterizar las propiedades mecánicas de materiales compuestos de madera y plásticos reciclados espumados. Se mezcló polietileno de alta densidad reciclado con fibra de madera de Pinus radiata D.Don (pino radiata) de 60 mesh. Las concentraciones de fibra fueron de 15 y 25% en peso, el polímero se espumó con un agente químico ACA (azodicarbonamida) y se utilizó anhídrido maleico MAPE (Epolene E-20) como agente de acoplamiento. Los compuestos se obtuvieron usando un proceso de extrusión en un equipo doble tornillo. Los resultados demostraron que el agente acoplamiento tuvo un efecto positivo sobre la adherencia del polímero reciclado y la fibra de madera. La densidad de los compuestos disminuyó con el agente espumante y las propiedades mecánicas de dureza, impacto, módulo de elasticidad en flexión y tracción fueron superiores para los compuestos no espumados. Se concluyó que al aumentar la concentración de fibra aumentaron las propiedades mecánicas de los compuestos a excepción de la tenacidad que al incorporar el agente espumante disminuyó ligeramente.
Abstract
The objective of the present study was to observe the morphology and characterize the mechanical properties of wood plastic composite foams. Recycled high density polyethylene was mixed with Pinus radiata D. Don (radiata pine) wood fiber of 60 mesh. The fiber concentrations were 15 and 25% by weight. The compounds were foamed with a chemical agent ACA (azodicabonamide) and MAPE (Epolene E-20) was used as a coupling agent. The composites were obtained by twin– screw extrusion. The results showed that the coupling agent had a positive effect on the adhesion of the recycled polymer and wood fiber. The density of the compounds decreased with blowing agent and the mechanical properties of hardness, impact, modulus of elasticity in bending and tension were higher for unfoamed composites. It was concluded that increasing the concentration of fiber increases the mechanical properties with the exception of impact resistance of the compounds that by incorporating the blowing agent decreased slightly.
Downloads
Download data is not yet available.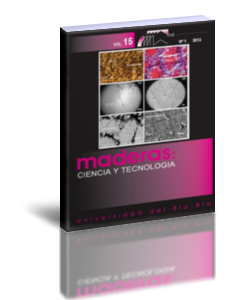 Downloads
How to Cite
Moreno, P., Rodrigue, D., Giroux, Y., Ballerini, A., & Gacitúa, W. (2014). Caracterización mecánica y morfológica de termoplásticos reciclados espumados reforzados con sub productos de madera. Maderas-Cienc Tecnol, 15(1), 3–16. Retrieved from https://revistas.ubiobio.cl/index.php/MCT/article/view/1272
License
Los autores/as conservarán sus derechos de autor y garantizarán a la revista el derecho de primera publicación de su obra, el cuál estará simultáneamente sujeto a la 
Licencia de Reconocimiento de Creative Commons CC-BY
 que permite a terceros compartir la obra siempre que se indique su autor y su primera publicación esta revista.