Wood planing properties of Australian plantation-grown Eucalypts
Keywords:
Eucalyptus, machining, planning, plantation, surface quality, surface roughness.
Abstract
Planing properties of seven Australian plantation-grown eucalypts were evaluated to provide recommendations on how these species should be machined and considered for the manufacture of high quality furniture and furnishings. The surface quality produced for each species was evaluated using eight planing conditions. All species performed well producing equivalent or better results than mature traditional furniture species, and could be used for high value furniture manufacturing. Tungsten carbide cutters produced better results than high-speed steel for most eucalypts and the grinding of a small chip-breaker usually produced improving results as the size of the chip-breaker was reduced. Grain orientation did not affect the planed surfaces for some species but planing with the grain usually produced better surface. Recovery and presence of torn grain could not be related to the wood density.
Downloads
Download data is not yet available.
References
ABARES. 2013. Australia's State of the Forests Report 2013. Australian Bureau of Agriculture and Resource Economics and Sciences. Canberra, Australia. 464 p.
ASTM. 2011. D 1666-87. Standard test methods for conducting machining tests of wood and wood-based materials. American Society for Testing and Materials, Philadelphia, PA.
Bendtsen, B.A. 1978. Properties of wood from improved and intensively managed trees. Forest Prod J 28(10):61-72.
Davis, E.M. 1962. Machining and related characteristics of United States hardwoods. USDA Tech. Bull. 1267. For. Prod. Lab., Madison, Wis.
de Moura Palermo, G.P.; de Figueiredo Latorraca, J.V. ; de Moura, L.F. ; Nolasco, A.M. ; de Carvalho, A.M. ; Garcia, R.A. 2014. Surface roughness of heated Eucalyptus grandis wood. Maderas-Cienc Tecnol 16(1):3-12.
Gavran, M. 2012. Australian Plantation Statistics 2012 Update. ABARES technical report. Australian Bureau of Agricultural and Resource Economics and Sciences.
Gavran, M.; Parsons, M. 2011. Australian Plantation Statistics 2011, Australian Bureau of Agricultural and Resource Economics and Sciences.
Kingston, R.S.T.; Risdon, C.J.E. 1961. Shrinkage and Density of Australian and Other South-West. Pacific Woods. CSIRO Division of Forest Products. Tech. Paper No. 13.
Kopač, J.; Šali, S. 2003. Wood: an important material in manufacturing technology. J Mater Process Technol 133:134-142.
Leitz. 1997. Leitz Lexicon - A comprehensive tool selection catalogue. Gebr. Leitz GmbH & co., Oberkochen, Germany.
Malkoçoğlu, A.; Özdemir, T. 2006. The machining properties of some hardwoods and softwoods naturally grown in Eastern Black Sea Region of Turkey. J Mater Process Technol 173:315-320.
Nolan, G.; Greaves, B.; Washusen, R.; Parsons, M.; Jennings, S. 2005. Eucalypt plantations for solid wood products in Australia - A Review. Forest and Wood Products Research and Development Corporation. 138 p.
Ozarska, B. 1997. Introduction to Australian research on utilising native hardwoods for high value-added wood products. WIN-Woodworking international, 1/97 pp. 52-53.
Porankiewicz, B.; Goli, G. 2014. Cutting forces by oak and douglas fir machining. Maderas-Cienc Tecnol 16(2):199-216.
Thoma, H.; Peri, L; Lato, E. 2015. Evaluation of wood surface roughness depending on species characteristics. Maderas-Cienc Tecnol 17(2):285-292.
VicForests. 2010. Plantations - complementing Victoria's native forest timber. VicForests, Melbourne, Australia. 2 p.
Waugh, G.; Rozsa, A.N. 1991. Grade descriptions. CSIRO Forestry and Forest Products & Holmesglen Institute, Internal Report.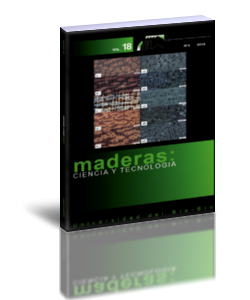 Downloads
How to Cite
Belleville, B., Ashley, P., & Ozarska, B. (2016). Wood planing properties of Australian plantation-grown Eucalypts. Maderas-Cienc Tecnol, 18(3), 425–434. Retrieved from https://revistas.ubiobio.cl/index.php/MCT/article/view/2445
License
Los autores/as conservarán sus derechos de autor y garantizarán a la revista el derecho de primera publicación de su obra, el cuál estará simultáneamente sujeto a la 
Licencia de Reconocimiento de Creative Commons CC-BY
 que permite a terceros compartir la obra siempre que se indique su autor y su primera publicación esta revista.