Risk assessment of mould growth on spruce wood during transport in an intermodal container
Keywords:
Aspergilus sp., Penicilium sp, Picea abies, relative humidity, temperature, vapour sorption analysis
Abstract
Microclimatic conditions (relative humidity and temperature) were monitored in a shipment of Norway spruce (Picea abies) wood inside an intermodal container on its 66-day transport from Slovenia to Japan. In parallel, the susceptibility of Norway spruce wood to moulding fungi was determined and a dynamic vapour sorption analysis was performed. Considerable moulding developed on specimens that were exposed to a climate with relative humidity above 93%. The results of the laboratory assessment correlated with the observations of mould development in the container. The relative humidity in the container was below 93%, so there was no mould growth on the transported Norway spruce wood.
Downloads
Download data is not yet available.
References
Baecker, A.A.W.; Behr, M.; Shelver, G.D. 1995. Anti-bluestain treatment developed for log cargoes stacked in subtropical conditions for export on logging ships. The International Research Group for Wood Protection. Document no: IRG/WP 95-30081, Stockholm, Sweden.

Bahmani, M.; Schmidt, O.; Fathi, L.; Frühwald, A. 2016. Environment-friendly short term protection of palm wood against mould and rot fungi. Wood Material Science & Engineering 11(4): 239-247.

Eaton, R.A.; Hale, M.D.C. 1993. Wood: decay, pests and protection. Chapman and Hall, London, 250 pp.

FAO. 2007. Global wood and wood products flow trends and perspectives. FAO Advisory Committee on Paper and Wood Products. Shanghai, China, 13 pp.

Johansson, P.; Ekstrand-Tobin, A.; Svensson, T.; Bok, G. 2012. Laboratory study to determine the critical moisture level for mould growth on building materials. International Biodeterioration & Biodegradation 73:23-32.

Khan, A.A.H.; Karuppayil, S.M. 2012. Fungal pollution of indoor environments and its management. Saudi Journal of Biological Sciences 19:405–426.

Palumbo, M.; Lacasta, A.M.; Navarro, A.; Giraldo, M.P.; Lesar, B. 2016. Improvement of fire reaction and mould growth resistance of a new bio-based thermal insulation material. Construction and Building Materials 139:531-539.

Schmidt, O. 2006. Wood and tree fungi. Biology, damage, protection, and use. Springer, Berlin, 334 pp.

Simón, C.; García Fernández, F.; García Esteban, L.; de Palacios, L.; Hosseinpourpia, R.; Mai, C. 2017. Comparison of the saturated salt and dynamic vapor sorption methods in obtaining the sorption properties of Pinus pinea L. European Journal of Wood and Wood Products 75(6): 919-926.

Unger, A.; Schniewind, A.P.; Unger, W. 2001. Conservation of Wood Artifacts, a handbook. Springer, Berlin.

Viitanen, H.; Ritschkoff, A.C. 1991. Mould Growth in Pine and Spruce Sapwood in Relation to Air Humidity and Temperature. Report no 221, Swedish University of Agricultural Sciences.

Welling, J.; Lambertz, G. 2008. Environmentally friendly temporary anti-mould treatment of packaging material before drying. Maderas-Cienc Tecnol 10(1):25-33.

Zabel, R.A.; Morell, J.J. 1992. Wood Microbiology, Decay and its Prevention. San Diego, Academic press Inc., 476 pp.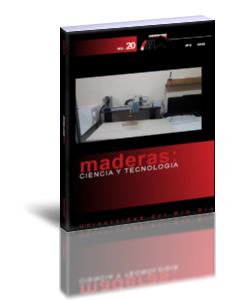 Downloads
How to Cite
Kržišnik, D., Lesar, B., Thaler, N., Grbec, S., & Humar, M. (2018). Risk assessment of mould growth on spruce wood during transport in an intermodal container. Maderas-Cienc Tecnol, 20(4), 621–626. Retrieved from https://revistas.ubiobio.cl/index.php/MCT/article/view/3222
License
Los autores/as conservarán sus derechos de autor y garantizarán a la revista el derecho de primera publicación de su obra, el cuál estará simultáneamente sujeto a la 
Licencia de Reconocimiento de Creative Commons CC-BY
 que permite a terceros compartir la obra siempre que se indique su autor y su primera publicación esta revista.