Efecto de la temperatura de termotratamiento en el comportamiento eléctrico de la madera de Pino radiata
Keywords:
thermal modified timber, electrical conductivity of timber, pinus radiata, madera termotratada, conductividad eléctrica de la madera
Abstract
En el presente trabajo se analiza el efecto de la temperatura del termotratamiento sobre la conductividad eléctrica de la madera de pino radiata. Sobre probetas de madera de pino radiata de procedencia País Vasco (España), termotratada a 190ºC y 210ºC por el método Thermowood así como sobre piezas testigo de la misma especie, procedencia y dimensiones, acondicionadas todas ellas hasta masa constante a 20ºC/40%HR, 20ºC/65%HR y 20ºC/90%HR se evaluó la resistencia eléctrica (longitudinal y transversal) y, posteriormente, se ajustó el modelo Samuelsson para modelizar en cada tipo de material la relación humedad de la madera-resistencia eléctrica. Se concluye que la temperatura empleada en el tratamiento térmico de la madera afecta no sólo a la humedad de equilibrio sino, también, a su conductividad eléctrica, siendo máximo este efecto en el tratamiento efectuado a 210ºC.
Abstract
This paper analyzes the effect of heat treatment temperature on the electrical conductivity of radiata pine wood. On specimens of radiata pine of the Basque Country provenance (Spain), heat treated at 190°C and 210°C by the method Thermowood as well as not treated matched samples, conditioned up to constant mass at the standard conditions of 20°C/40%; 20°C/65% and 20°C/90% RH the electrical resistance (longitudinal and transverse) was measured and a Samuelsson model fitted to describe the relationship between the electrical resistance and moisture content of each material. From the data is concluded that the temperature employed in the thermal treatment timber not only affects equilibrium moisture content of wood but also to its electrical conductivity, being this effect  maximum in the processing performed at 210°C.
Downloads
Download data is not yet available.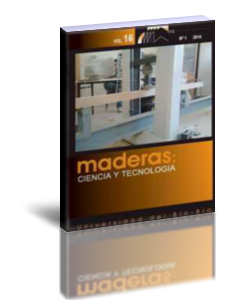 Downloads
How to Cite
Fernández-Golfín, J., Conde García, M., Fernández-Golfín, J., Hermoso, E., & Cabrero, J. (2014). Efecto de la temperatura de termotratamiento en el comportamiento eléctrico de la madera de Pino radiata. Maderas-Cienc Tecnol, 16(1), 25–36. Retrieved from https://revistas.ubiobio.cl/index.php/MCT/article/view/1144
License
Los autores/as conservarán sus derechos de autor y garantizarán a la revista el derecho de primera publicación de su obra, el cuál estará simultáneamente sujeto a la 
Licencia de Reconocimiento de Creative Commons CC-BY
 que permite a terceros compartir la obra siempre que se indique su autor y su primera publicación esta revista.